Your Style with SottoMarino's Fluid Fabric Bootcut Pants
a soft touch a new pair of trousers with a sleek silhouette cut from pure cotton chenille. with a loose leg, they will temper your everyday repertoire with mellow feminine appeal.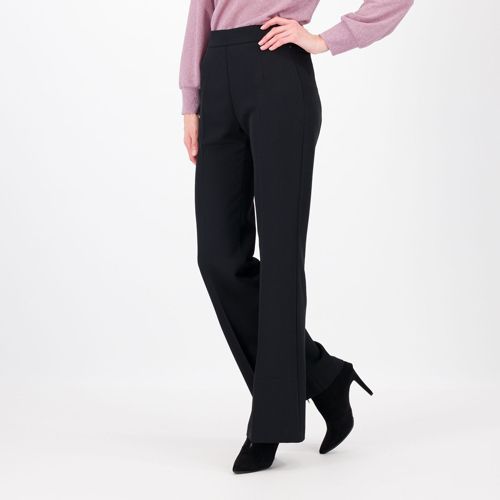 Prezzo QVC € 59,90
 Special Value price € 49,90
Details
• bootcut trousers in fluid technical fabric
• medium-high, enveloping waist with elastic on the back
• zip and button closure on the side
• 100% polyester
• made in Italy
Size and fit
• regular fit: slimmer line at the top and loose design from the knee to the bottom
• length: on a 1.65 m tall woman, it ends at the heel
• also available in size Petite, for women up to 1.60 m tall
• outside leg length compared to size 44: 110.5 cm
• outside leg length compared to size 44 Petite: 103.5 cm
These trousers, made of a lavish flowing fabric, perfectly mix elegance and relaxation. The bootcut silhouette lends a sense of refinement to your style, making them suitable for a variety of events. These pants elegantly transition from day to night, whether you're heading to the workplace, seeing friends for lunch, or attending a special event. The flawless tailoring guarantees a flattering fit that complements your form while allowing you to move freely. Every feature of these trousers, from the superb fabric to the clever design, reflects SottoMarino's attention to quality and elegance. Accept flexible fashion that never sacrifices comfort. Elevate your wardrobe with SottoMarino Bootcut Trousers now and enjoy the ideal combination of design and practicality.
Check Now